Chemerkin Coming to Chiang Mai . . . "Miracles Do Happen"
He won the super heavyweight title there ten years ago, and Andrei Chemerkin will be returning to Chiang Mai, Thailand for the World Weightlifting Championships, which open next week.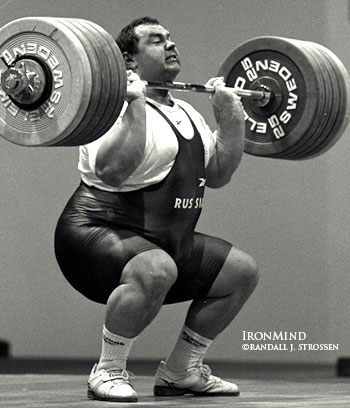 On his way to cleaning and jerking 262.5 kg, Andrei Chemerkin (Russia) won the 1997 World Weightlifting Championships in Chiang Mai, Thailand, and he will be on hand when the world championships return to Chiang Mai next week. IronMind® | Randall J. Strossen, Ph.D. photo.

Chemerkin, who first predicted the possibility of a surprise Chinese super heavyweight in Beijing next year, told IronMind® today that he does not necessarily expect the winning performance at this year's World Weightlifting Championships to match the 462.5-kg total he achieved in 1997. Instead, matching other predictions IronMind® has received, Chemerkin thinks that the super heavyweight crown might be scooped up with a total more in the 450-kg range, especially with Hossein Rezazadeh (Iran) withdrawing from the competition due to injuries suffered in a recent car crash.

"Miracles do happen," Chemerkin asserted, as he explained that anything is possible in sport and that with the right athletes and the right motivation, huge weights will go overhead, but it all depends on having "more desire to win and a willingness to do anything to attain that goal."

Showing that he can be philosophical while retaining his sense of humor, Chemerkin answered a question about a specific weakness of a certain lifter by noting, "Those who are born to crawl cannot fly."