Changing of the Guard: Tang Deshang Wins the 69s
Paris–The men's 69-kg class at the World Weightlifting Championships raised questions about who would be the favorite at next year's London Olympics, but all signs pointed to a changing of the guard as junior Tang Deshang (China) won the the class.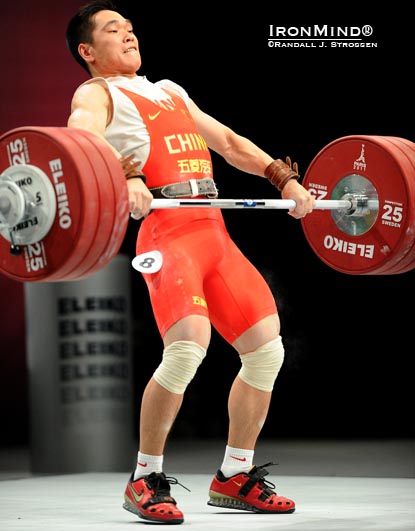 Tang Deshang pulls himself under 186 kg for the clean and jerk that gave him the overall victory in the men's 69-kg class at the World Weightlifting Championships. IronMind® | Randall J. Strossen photo.


Excitement came early as Turkey's Mete Binay, sitting on a gold medal 157-kg second attempt success in the snatch, took a massive jump to 166 kg in world record attempt aimed as strengthening his position going into the clean and jerk. Binay had the weight overhead, only to lose the lift behind—no record, but a clear indication that he's poised to claim it.

Binay's unsuccessful bid left him behind the leaders in the clean and jerk as his best lift of 177 kg paled next to Tang Deshang's gold medal lift of 186 kg. Tang's teammate and fellow junior, Wu Chao, won the bronze medal in the total with 335 kg, one kilo behind Russia's Oleg Chen.

###



Visit the IronMind Forum: talk strength, discuss this story. Strongman, grip, Highland Games, Olympic lifting, stones and more.

You can also follow IronMind on Twitter.