Central USA Mas Wrestling Championships
"The first Central USA MAS Wrestling Championship was held in Southern California like weather with enthusiastic participants and crowd in Kokomo, Indiana," Odd Haugen reported to IronMind.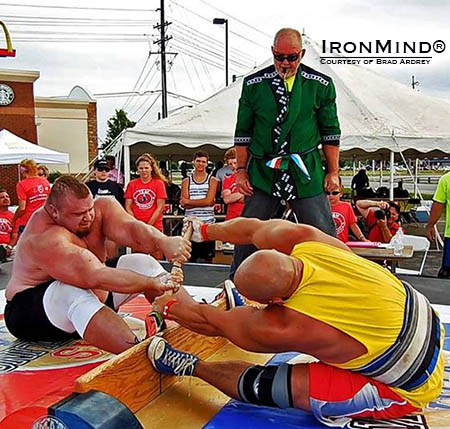 Gold medal match: Phil Brown (left) versus Brad Ardrey (right). IronMind® | Photo courtesy of Brad Ardey




"The big boys from Ohio came and dominated, but we had courageous performances by John Bailey of Cortez (Florida) and Joshua Stubbs (Indiana). 


"The Absolute Men's winner was BIG Phil Brown of Westerville, Ohio, with Brad Ardrey and Steve Slater, respectively, in second and third, both of Lancaster, Ohio.

"9-year olds Maxx Coy and Bret Echelbarger must have wrestled each other more than a dozen times (as well as any other boys willing to take the challenge) between the MAS clinic in the morning and the tournament in the afternoon. In the official MAS off between the two it was Bret that prevailed.

"In the teen division it was undefeated middle school wrestler, Cody Larkin beating Chad Gifford for the title.

"In Ladies Absolute Class, Sharon Moss of Columbus, Ohio easily won and might very well be ready to challenge Amy Wattles? Also, college student (and light weight) Megan Gifford of Kokomo, Indiana was very impressive in matches against significantly heavier athletes, taking 3rd in the Ladies' Absolute.

"The tournament winners in addition to the now traditional MAS Wrestling USA cow bells, received 6Pack Lunch coolers, and all participant received products from dotFIT," said Haugen.

###



Want to talk strength? Join the IronMind Forum.

You can also follow IronMind on Twitter and on Facebook.