Casey Burgener, Melanie Roach Nominated for USOC Athlete of the Year
Casey Burgener, the highest placing member of USA Weightlifting men's team at the 2007 World Weightlifting Championships, has been nominated as USOC male athlete of the year, USA Weightlifting Executive Director Dennis Snethen told IronMind® today.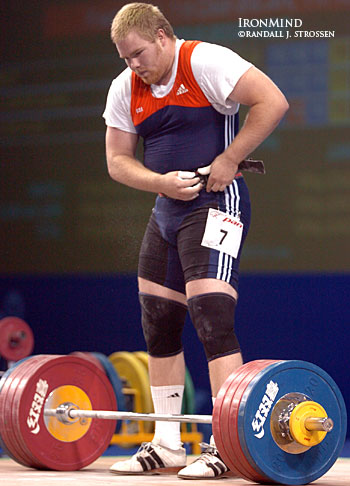 Just because he was #7 don't think that Casey Burgener's team-leading performance at the 2007 World Weightlifting Championships was merely the result of good luck - this hardworking lifter keeps improving and if things go right, he will represent the USA in the Beijing Olympics next year. IronMind® | Randall J. Strossen, Ph.D. photo.

Melanie Roach, who made a big splash with her performance at the 2007 Worlds, was nominated as the top female athlete, Snethen said.

The ever-improving Burgener churned out 182/218 in the supers at the 2007 World Weightlifting Championships, netting him 11th place, but he is caught in a tough bind as the Beijing Olympics draw nearer, because at the moment, no US men are guaranteed slots at the 2008 Olympics - the limited number of positions are awarded primarily on the basis of team performance at the 2006 and 2007 World Weightlifting Championships, and although Snethen said that recent positive drug test results from other countries could change things, at the moment, the USA has no men on the roster.