Captains of Crush Certification: "Same As It Ever Was"
"I would like to ask what is the reason that the certifications with different rules are on the same list, without even mentioning that they are done with different rules?

"The credit card rule alone makes the performance totally different than it was before the credit card rule. And there has been other changes in rules also, like new out of package gripper. It is like comparing javelin throw with old javelin model and new javelin model. Or comparing 100m dash and 110m hurdles. Bottom line: They are not comparable, yet they are on the same list." - question for IronMind® from Timo Hänninen and Petri Hirvonen (Finland)
"A good question," we said, "thoughtful, with good examples, and one that a lot of people might be interested in," so we decided to turn the answer into a short article because this is not something easily addressed in just a few words.

It began in 1991, recognizing a corner of the strength world that had been largely overlooked and a man who had done something most mere mortals couldn't fathom was possible.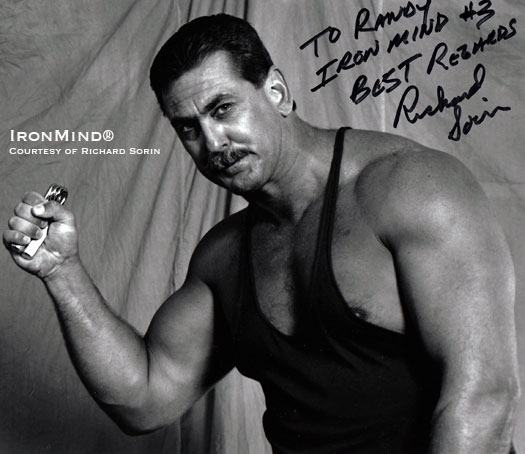 The face and the measure of a world-class performance in the grip strength world - Richard Sorin closes IronMind®'s No. 3 gripper, officially . . . the first man ever to achieve this feat of grip strength. IronMind® | Photo courtesy of Richard Sorin.


Grip strength was the area, Richard Sorin was the man, and what he'd done was close IronMind®'s fearsome No. 3 gripper . . . a feat of strength that left many a big, strong guy google-eyed.

Back then, nobody really paid much attention to grip strength, but IronMind® has always marched to its own drummer, and from the company's first days in 1988 it has focused on grip strength, recognizing outstanding performances in the area.

In those days, as explained in the book Captains of Crush Grippers: What They Are and How To Close Them, the grip world was easily described in two words: Richard and John, as in Richard Sorin and John Brookfield. From there, what was a small, generally collegial group started to grow and things were uncomplicated, so when IronMind® came up with the idea of certifying Richard Sorin's fabulous feat of grip strength, our procedures were quite basic: a photo, some back up correspondence and corroboration, and that was about it.

As time passed, it became apparent that IronMind®'s certification program for the most difficult Captains of Crush® Grippers signified not just the most established and most prestigious accomplishment in the grip world, but it had also become well-known throughout the strength world, so more players joined the game. With growth, things changed and in their quest to get certified, candidates began introducing techniques that IronMind® felt violated the letter or the spirit of the original challenge, so IronMind®'s job as good stewards was to plug the holes as they appeared.

Thus, rules were added over the years, but - and this is crucial - not to change the landscape, but to keep things level. We were, in fact, guardians of the status quo, the people who said, "That's fine if you want to start running an 85-meter dash, but here at IronMind®, we still do the full 100."

Briefly, the rules for certification follow the chronological order of their introduction and each is tied to a specific incident that created the need for that rule. As for the most recent additions, let's consider them for a moment.

For years, there was no need to formally define a legal starting position, even in the very early days when IronMind® sold grippers that were a lot more variable than today's Captains of Crush® Grippers - some had Grand Canyon spreads. This is important to understand because even though we used to encourage people to pull in the far handle a bit if necessary, nobody got carried away with this and thus there was no need to get too rigid about things, then. Enter Kinney Training Adapted (shortened to KTA), Bill Piche's e-book on gripper training purportedly based on Joe Kinney's training, and things changed.

For the record, Joe Kinney said that Bill Piche had one brief phone conversation with him, and Joe Kinney can quickly disabuse you of the the notion that this book reflects his thinking. What KTA did present, however, was a systematic gripper training program and its key was teaching what has become known as the deep set: encouraging people to position the gripper farther forward in their hand, turning what had been a full-range movement into a partial movement, and thereby giving people a false sense of their strength levels and a ready excuse to complain about the size of their hands.

Because of this, IronMind® had to reign in the partial movements that were an insult to the people who could legitimately perform this prestigious feat of strength - we saw the deep set as making a mockery of things that had an honorable tradition. For one year, we tried a one-inch rule, found that didn't work and then we adopted what a lot of people in the grip strength community call "the credit card rule."

For more details on this, please see IronMind's News story announcing the credit card rule.

As for the fresh-from-the-package requirement, this too was in response to changes in the landscape: from a known instance of a spring being switched to unabashed shopping around for "an easy No. 3 to cert on," those without scruples were trying to dilute the Captains of Crush® certification challenge with their frauds, so IronMind® responded by requiring that a factory fresh gripper be opened on the spot, eliminating these loopholes.

So, has the game really changed? IronMind® would say, "Absolutely not," and here's the living proof.

When the first man ever certified, Richard Sorin, who had done so under the earliest, most basic rules, recently re-certified under the the most up-to-date and complete set of rules, it's hard to argue that things have changed: the strong are still the strong, and all IronMind® has done has made it more difficult for the charlatans to dilute things. After all, we figured, they can still run the 85-meter dash if they want to . . . just not in our backyard.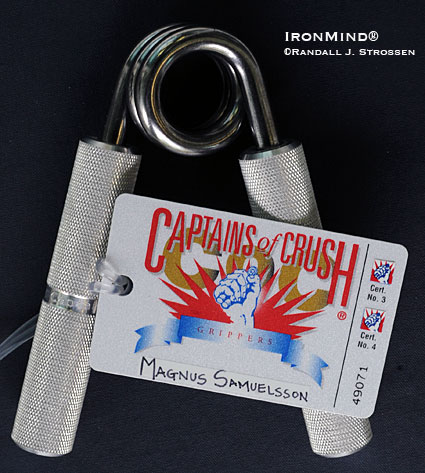 You can mash this and squash that, but getting certified on the hardest Captains of Crush® grippers is what tells the world that you are among the grip-strength elite, the men with the world's strongest hands. IronMind® | Randall J. Strossen photo.