Canada's Strongest Man: Preview
It's not just that Canada - especially Quebec - has such a formidable place in the history of strength and strongman, or that perennial champion Hugo Girard will be making another comeback ... even more, the outcome of Canada's Strongest Man bears, in all likelihood, on the final form of this year's World's Strongest Man contest in a very significant way.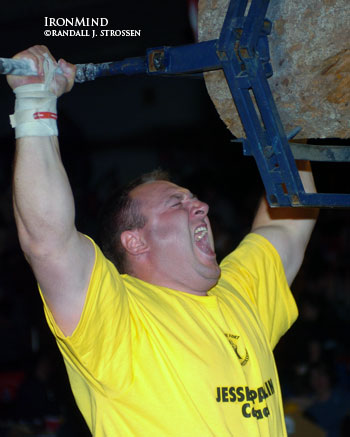 Jessen Paulin, shown at the 2004 World Muscle Power Championships, is considered one of the men who will be pushing Hugo Girard the hardest this weekend at the Canada's Strongest Man contest. IronMind® | Randall J. Strossen, Ph.D. photo.

What's in store for the mighty men from Canada this weekend? With thanks to Paul Ohl for providing the list of events, here's the challenge:

1. Seated pull: vertical lift
2. Fingal's fingers
3. Squat for reps: using a Chevrolet Silverado, 720 pounds
4. Atlas stones: five stones, going up to 385 pounds
5. Double truck pull: harness and rope
6. Log press, 90 seconds: four logs presses (280, 300, 320, 340 pounds)
7. Lumberjack timber walk: 825 pounds
8. Medley: four flips of 1000-pound tire, 775-800 pound yoke, and power stairs with 525 pounds (five steps, 15-inches high); 90-second time limit

"The 12 best Canadians (out of the Western, Ontario, Quebec and Atlantic [regions])." will be competing," Paul Ohl reported. "My prediction: the first four, maybe five, will be from Quebec," said Ohl.

After all, Quebec c'est vraiment le pays des hommes fort!

And as is fitting for the home of strong men, Quebec will be shaping the field, and quite likely, the final outcome of the 2007 World's Strongest Man contest: Although we have not had this confirmed officially, IronMind® understands that the winner of Canada's Strongest Man contest will be invited to WSM, where he could easily be one of the favorites in the contest and have a substantial influence on the final shape of the competitive field.