Canada World Strength Announces Fortissimus TV Broadcast Schedule
IronMind® has just received the Fortissimus television broadcast schedule from the contest promoter, Canada World Strength.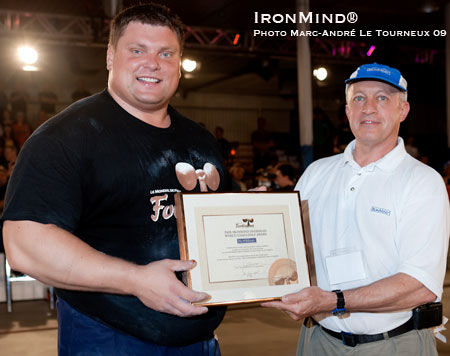 Along with the overall title, Zydrunas Savickas (left) won the IronMind® Overhead World Challenge at Fortissimus and received the award from IronMind®'s Randall Strossen. IronMind® | Photo by Marc-André Le Tourneux 09, courtesy of Canada World Strength.

"Canada World Strength is happy to announce the official broadcast schedule for Fortissimus 2009 TV show. We are extremely proud to see our competition on three channels around the world. For our region, it is a fantastic achievement that bears witness to what we can do with collaboration and dialogue," said Ms. Nancy Labrecque on behalf of the Canada World Strength board of directors.

Here are the details of the broadcast schedule.

RDS:
Show 3
October 17 at 10:00 am
October 21 at 11:30 am and 5:30 pm
October 23 at 12:00 am

Show 4
October 24 at 10:00 am
October 27 at 1:30 am
October 28 at 5:30 pm
October 29 at 11:30 am

Show 5
October 31 at 11:00 am
November 4 at 5:30 pm
November 5 at 11:30 am

Show 6
November 7 at 1:30 am and 10:00 am
November 10 at 1:00 am
November 11 at 11:30 am and 5:30 pm
November 12 at 1:30 am


TSN:
October 24 at 12:00 pm
October 26 at 1:30 am
October 29 at 12:30 pm
October 24 at 12:30 pm
October 27 at 1:30 am
October 30 at 12:30 pm
October 31 at 11:30 pm
November 2 at 1:30 am
November 5 at 12:30 pm
November 21 at 11:30 am
December 5 at 1:00 pm
December 5 at 1:30 pm

Eurosport:
October 16 at 11:15 pm
November 6 at 11:15 pm