Four-time World's Strongest Man winner Magnus Ver Magnusson told IronMind® that strongman "started getting too boring."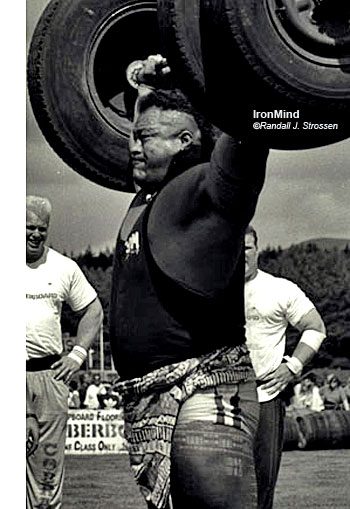 Joe Onasai on the overhead lift at the 1995 World Strength Championships (Callander, Scotland). Talking about colorful competitors, in addition to Joe, that's Nathan Jones on the left and Phil "Stonehenge" Martin on the right. IronMind® | Randall J. Strossen, Ph.D. photo.
Saying that he "missed all the characters," and explaining that "everybody is playing the same character now," Magnus Ver lamented the fact that "everybody looks the same."

In striking contrast, Magnus Ver said, there used to be great variety: "Kaz, Geoff Capes, Jamie [Reeves], Riku Kiri, Gary Taylor, Joe Onasai, Ted van der Parre . . . ."

When it comes to selling strongman to the public, "you have to be entertaining," to be successful, Magnus Ver said, and with the limited number of personae he sees in strongman, its potential for expansion is limited.

"There is a wide band of people who like strongman," Magnus Ver said, so you need characters within the sport that its audience can identify with.