California's Strongest Hands
"Santa Cruz Strength will play host to California's Strongest Hands on Saturday, January 18, 2014," Clay Edgin told IronMind today.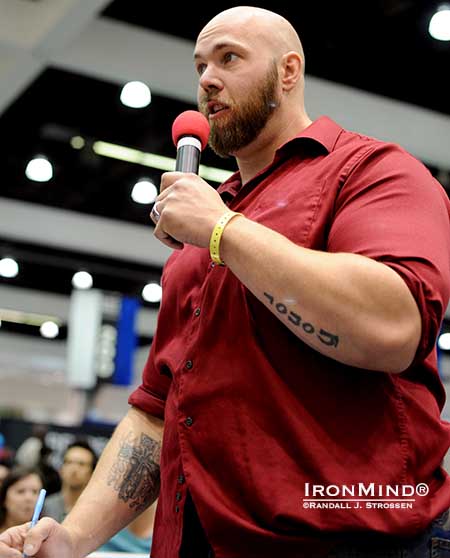 He's certified on the Captains of Crush No. 3 gripper and on the IronMind Red Nail, plus he's the first man in the world to officially complete the Crushed-To-Dust! Challenge, so that combined with his proven ability to work on the other side of the microphone makes Clay Edgin a natural for promoting the upcoming California's Strongest Hands competition.  IronMind® | Randall J. Strossen photo


"The Golden State was once a hotbed for grip contests and home to a thriving community of grip trainees. A recent resurgence of interest in grip sport, combined with the formation of Armlifting USA, has rekindled those ashes.

"The contest will feature the three standardized Armlifting USA lifts: Rolling Thunder One-Hand Deadlift, Apollon's Axle Double Overhand Deadlift, and Captains of Crush (CoC) Silver Bullet Hold, as well as two additional events: the 100-lb. Plate Hold for Time (25-kg plates for women) and Sledgehammer Choke Deadlift.

"Will anyone be able to take down Igor Kupinsky's incredible 54 second CoC Silver Bullet Hold?  Is Alexey 'Tank' Tyukalov's Rolling Thunder world record in jeopardy of being topped?

  Is there a challenger to Mike Burke on the Apollon's Axle Double Overhand Deadlift?

"Competitors already confirmed include a couple certified Captains of Crush No. 3 gripper closers and four IronMind Red Nail benders, so expect the contest to draw the strongest hands in the state.

"Immediately following the grip contest will be a mas wrestling tournament sanctioned by Mas Wrestling USA. The competition will be open to any interested competitors, but all are encouraged to become members of Mas Wrestling USA. Among many of the membership perks is free entry into the All American Mas Wrestling Championships held the following weekend at the Los Angeles Fit Expo," said Edgin.

And as if you needed another reason to attend, Clay Edgin will be witnessing any and all contenders as they attempt to complete the IronMind Crushed-to-Dust! Challenge, which consists of closing a Captains of Crush No. 2 gripper, lifting 200 lb. on the Rolling Thunder, and fully deadlifting 45 lb. on the IronMind Hub.

For more information, contact Clay at (831) 776-0875 or strongmanclay@gmail.com.

                                                                       ###

Want to talk strength?  Join the IronMind Forum.
 
You can also follow IronMind on Twitter and on Facebook.