CIS and Baltic Countries Strongman Championships
Federation Uralstrong and World Strongman Federation are presenting the Commonwealth of Independent States and Baltic Countries Strongman Championships.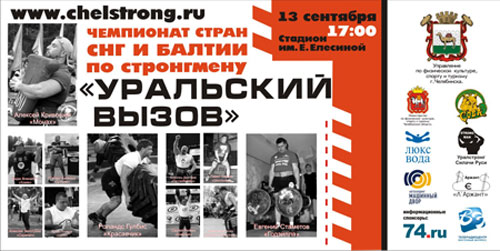 The CIS and Baltic Strongman Championships are set for Chelyabinsk, Russia. IronMind® | Art courtesy of Vlad Redkin.


This competition will feature two-man teams:

1. Uzbekistan: Eler Mamadiev and Mirgafur Haidarov
2. Latvia: Rolands Gulbis and Artis Plivda
3. Baltic: Markus Mannik and Guntars Kusins
4. Belarus: Sergey Rumin and Pavel Soroka
5. Russia: Dmitry Kononets and Evgenij Stametov
6. Russia : Alexei Krivosheya and Alexei Zolotukhin

Events:

1. Farmer's walk: 120 kg for distance
2. Deadlift: 270 kg for reps
3. Conan's circle
4. Car pull
5. Tire flips: 350 kg, 8 flips
6. Power stairs: 205, 250, 250 and 290 kg

The prize list includes US$15,000 and cast medals made especially for this contest. Dmitry Kononets and Artem Klimenko are organizing this contest and Vlad Redkin is the head referee.