Bruce Robb Wins the Strathmore Highland Games, Lorne Colthart wins the Scottish Caber Tossing Championships
Combine a castle setting with top competitors and it's no wonder that the Strathmore Highland Games produced record performances and drew several thousand spectators this past weekend—Francis Brebner called the action for IronMind.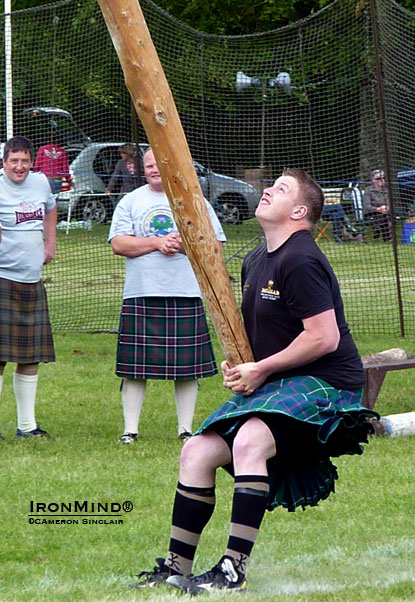 Young Lorne Colthart won the 2011 Scottish Caber Tossing Championships. IronMind® | Cameron Sinclair photo.



2011 Strathmore Highland Games
by Francis Brebner

The 2011 Strathmore Highland Games were held this past weekend in the majestic setting of Glamis Castle, attracting more than five thousand spectators who watched top athletes Craig Sinclair and Bruce Robb go head to head, with both men smashing their way into the record books once again. With a day of sunshine, the Games were opened by the chieftain, Mary, Dowager Countess of Strathmore, who was accompanied by special guest Colonel Alvin Drew of the USA, one of the astronauts who recently returned from the Space Shuttle Discovery's 39th and final mission.

With a total of eight heavy athletes competing, the first event, the 16-lb. shot got underway. It was won by Robb with a put of 50' 9". Second place was a very close tussle between Sinclair Patience and Lorne Colthart, with Patience just nudging ahead for the win with 46' 7". Colthart was left in third at 46' 5"and Bruce Aitken took fourth place with 45'.

In the 22-lb. shot, Robb again took top honours with a winning put of 43' 11". Second was Colthart with 42' 5". Third place ended in a tie between Sinclair and Patience, each putting the shot 41' 2".

The 28-lb. weight for distance had a very close outcome, with Sinclair making the winning throw of 81' 4", besting Robb, who placed second at 80' 10". Patience took third with a distance of 79', and Aitken fourth with 73' 3".

The 56-lb. weight for distance was a climactic event as Sinclair and Robb went at it tooth and nail, with both eclipsing the ground record of 38' 10" set by America's Larry Brock in 2007. It could not have been any tighter as Sinclair won with a distance of 39' 2" for a new ground record. Close behind was Robb with a throw of 39' 1". In third was Patience at 37' 9", and in fourth Aitken at 36' 10".

In the 16-lb. hammer, Aitken took the limelight with a dazzling throw of 137' 9" for the win, with 21-year-old Colthart in second place at 132'. In third and well under par was Sinclair with a throw of 130' 1", followed by Patience in fourth.

In the 22-lb. hammer, Sinclair found his form with a winning throw of 109' 4" over Aitken, who was a close second at 108' 4". Patience took third with 102' 9", and Colthart and Robb tied for fourth at 102' 3".

The caber event for the Scottish Caber Tossing Championships used a 19' and 140-lb. implement. Young Colthart won with a perfect 12:00 toss. In second place was Robb with a toss of 12:10, in third Patience with 1:00, and in fourth Sinclair with 2:00.

The final event, the 56-lb. weight over the bar, showcased the second ground record of the day, with Robb clearing a height of 15' 3", smashing his old record of 15' set in 2004. Sinclair followed at a height of 15', while third was a mass tie between Patience, Aitken, Stuart Anderson and Colthart, all clearing 13' 6".

Overall points:
| | | |
| --- | --- | --- |
| 1. | Bruce Robb | 29.5 |
| 2. | Craig Sinclair | 28.0 |
| 3. | Sinclair Patiencer | 22.0 |
###



The IronMind Forum: discuss this article, talk strength, get help with your training.

You can also follow IronMind on Twitter.