Brothers in Arms: Big, Battered or Otherwise
Denny Felix reported on husband Mark's trip to visit with some of the top US strongmen this weekend, courtesy of his sponsor MET-Rx, as they prepare for the WSMSS Mohegan Sun Grand Prix.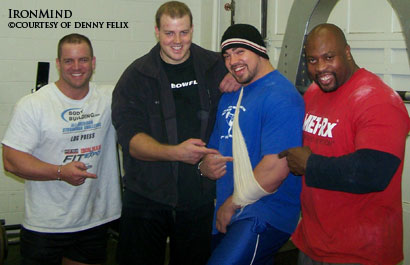 "Smiles all around," Denny Felix told IronMind, as (left to right) Jason Bergman, Dave Ostlund and Mark Felix share the pain of Kevin Nee's arm injury, which forced him out of the lineup for the upcoming WSMSS Mohegan Sun Grand Prix. IronMind® | Photo courtesy of Denny Felix.

"Felix had an eventful training trip at the weekend," Denny said. "All four guys exchanged notes and gave tips in their fields of strength, in preparation for next week's Mohegan Sun Super Series and the Rolling Thunder® World Championships. Just goes to show there are no hard feelings between the guys."