Brooklyn's Strongest Arm: Armwrestlers Set to Hook Up at the Jubilee Festival Tomorrow
White Castle teams up with the New York Arm Wrestling Association (NYAWA) to present the 27th Kingsboro Armwrestling Championships tomorrow, August 30.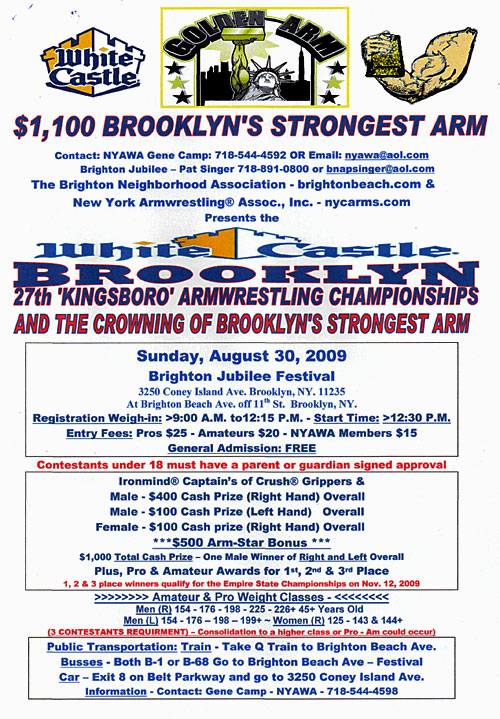 There's no other strength sport with the visceral appeal of arm wrestling and thanks to Gene Camp's New York Arm Wrestling Association, White Castle, and the Brighton Jubliee Festival, arm wrestlers and their fans are set for a big day in Brooklyn, New York tomorrow. IronMind® | Artwork courtesy of Gene Camp/NYAWA.


"This is the crowning of 'Brooklyn's Strongest Arm,'" NYAWA president Gene Camp said and there's plenty of cash to go along with the glory.

Weigh-ins start at 9:00 a.m. tomorrow, there's a class for everyone - men and women, novice and pro, big and little, young and old - and you can get there by public transportation. If you need additional information, please call NYAWA president Gene Camp at 718-544-4598.