Britain's Strongest Man on Channel 5 Tonight
While IronMind® was not lucky enough to be in Minehead, England, in person for this year's Britain's Strongest Man contest, from everything we heard, it was a tremendous contest and tonight, lucky Channel 5 viewers in the UK will have a chance to see some of the action that was so intense that one fan told IronMind®, "If it had been a boxing match, they'd have stopped it."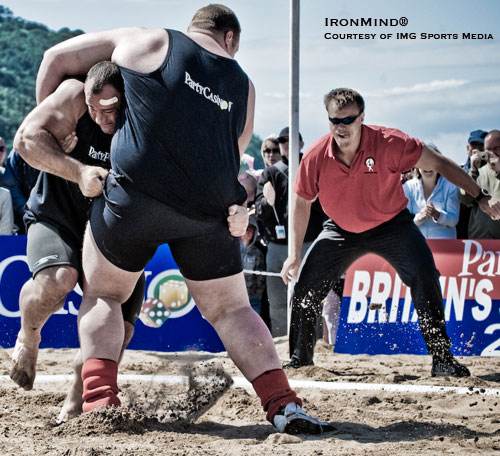 That's Jimmy Marku on the left and Terry Hollands on the right, wrestling at this year's Britain's Strongest Man (BSM) contest. Colin Bryce (far right) is supposed to merely be the referee, but to us, it looks as if he's one lick from jumping in and knocking heads himself. The contest begins airing tonight at 8:00 p.m. on Channel 5 in the UK. IronMind® | Photo courtesy of IMG Sports Media.

"Tonight is the first of five weekly shows," Colin Bryce told IronMind®, and this evening's episode includes Jimmy Marku, Darren Sadler, Lewis MacLean, Dean Slater and Gary Gardner. The events are medley, safe press, barrel and sack load, deadlift, stones, and - how's this for your inner gladiator? - wrestling, "for the first time ever in BSM!"

Show time is 8:00 p.m., so pass the word along and don't miss the action tonight. Also, remember that BSM is something of a run-up to the World's Strongest Man contest, so that's another huge reason to tune in tonight if you are a strongman fan.

Keep your eye on the official World's Strongest Man website for details on both contests, including broadcast schedules.