Britain's Strongest Man . . . World's Strongest Man Preview
Britain's Strongest Man will be broadcast on Channel 5 in the UK next week - follow the action, enjoy a terrific contest and get a taste of what's coming at World's Strongest Man at the same time.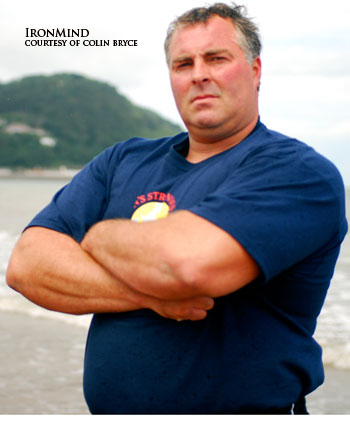 "The 42-year-old farmer from the North of England, Mark Westaby, goes in heat three on Wednesday," reported Colin Bryce. "At six feet 5 inches and 165 kg, he is a powerful force. And the amazing thing is he had never touched a weight until four years ago, when he wandered across a local strongman contest." IronMind® | Photo courtesy of Colin Bryce.

The battles begin on Monday at 8:00 p.m., with Heat 1, which features such favorites as Mark Felix, Jimmy Marku and Mick Holding. The heats continue at the same time throughout the week, with the finals on at 8:00 p.m on Friday. You will want to watch this every day if you can - Terry Hollands is in Tuesday's show, Mark Westaby is in Wednesday's show . . . Darren Sadler is in Heat 5 - and be set to enjoy the finals.

IronMind® expects an official announcement to be made very shortly, with the full list of competitors for World's Strongest Man, as well as the heats, and this is one more reason to watch Britain's Strongest Man if you can next week: A rumor is circulating that five Brits will be competing in this year's World's Strongest Man contest and as you will see from this contest, that seems plausible since the competitive standard was so high.

In fact, World's Strongest Man's Colin Bryce told IronMind®, "This year's Britain's Strongest Man was the highest standard we have ever had at the contest. To give you an idea of the power of the men, there are sub 40-second Fingal's Fingers, and one athlete even did 13 reps with a 120-kg wooden log. My feeling is the British athletes that go to WSM will stand a good chance of making it through to the final."