It's going to be huge - something of a World's Strongest Man tune-up.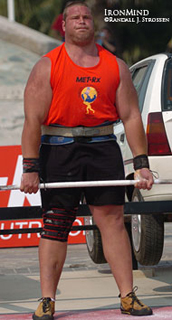 Terry Hollands, shown on the deadlift at the 2006 MET-Rx World's Strongest Man contest, will be one of the favorites at the upcoming Britain's Strongest Man contest, and from what we hear, there' s a new competitor, about Terry's size, who will also be a man to watch. IronMind® | Randall J. Strossen, Ph.D. photo.

Colin Bryce told IronMind® that as big as Terry Hollands is (about six feet six inches tall and 190 kg in bodyweight), don't think he's the only guy there who will fill a doorway - Mark Westerby stands about six feet seven inches tall and weighs about 180 kg, Bryce said, and watch for big things from the big man. Doing the introduction, Bryce said, "He came from nowhere and has to be regarded as one of the favorites."

Darren Sadler and Mark Felix are also men to watch, said Bryce, although he quickly added, "This one will be tough to call with all the new faces. We have six or seven competitors who are 25 or under, which is very, very rare in strongman, and Jay Hughes, who won the South of England qualifier, which some people consider the hardest of the qualifiers, is only 23."

Geoff Capes, the world-class shot putter who won World's Strongest Man in 1983 and 1985, will be on hand, awarding a six-foot William Wallace sword to the winner, in honor of the great Scottish warrior (whose death, when finally captured by the English, makes mere execution sound like a piece of cake).

Along with top competitors, this contest will feature World's Strongest Man events and equipment, with Jouko Ahola (1997 and 1998 World's Strongest Man winner) in charge of events and Svend Karlsen (2001 World's Strongest Man winner) refereeing.

Underscoring the elite status of Britain's Strongest Man, TWI told IronMind® that the winner is assured an invitation to the 2007 MET-Rx World's Strongest Man contest.

Britain's Strongest Man will be held in Butlins Minehead (England), June 24 - 29.