"Brilliant" . . . Jon Pall Premiere
Reykjavik - Hjalti Arnason's film on Jon Pall Sigmarsson was described as "brilliant" at the packed premiere last night, and it's a movie that might do for strongman what Pumping Iron did for bodybuilding.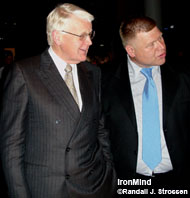 Icelandic President Olafur Ragnar Grimsson (left) is greeted by Hjalti Arnason at last night's premiere of the Jon Pall Sigmarsson film in Reykjavik. President Grimsson told IronMind® that he had seen Jon Pall "many times," and that when he travels abroad, he is often asked about the Icelandic superstar. IronMind® | Randall J. Strossen, Ph.D. photo.
Dr. Douglas Edmunds praised Hjalti Arnason's efforts and said, "Hjalti keeps the Viking tradition alive," and as an indication of the film's impact in Iceland, it was said that no film in the history of the country has received so much media attention - it is predicted that the Jon Pall movie will break all Icelandic box office records.

Many in the audience at the packed Smarabio theater in Reykjavik were moved to tears as they watched the film which included contest clips and appearances from such huge names and personalities in the sport as Bill Kazmaier.

Pretty much hitting the nail on the head, Moira Edmunds, who was shown visiting Jon Pall's grave in one of the film's many memorable moments, summed it by saying, "It was a wonderful celebration of a wonderful human being."