Brian Burgos Certifies on the Red Nail
Brian Burgos has been certified on the IronMind Red Nail, a benchmark short steel bend, allowing the 6' tall, 150 lb. IT project manager to meet multiple goals in one fell swoop.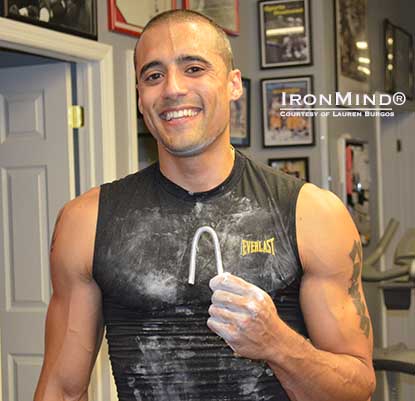 Brian Burgos displays the IronMind Red Nail he successfully bent under the watchful eye of Dr. Ken Leistner. IronMind® | Photo courtesy of Lauren Burgos.




"I've been bending for about a year and a half," Burgos told IronMind. "Once I found out my wife was pregnant 9 months ago I told her that it was my goal to certify on the Red Nail before our son is born. He's due in 4 weeks so it feels great to accomplish my goal. I'd like to dedicate this certification to him. My next goal is to certify on the Captains of Crush No.3. I can currently close the 2.5 so I hope to certify next year.

"My other goal was to be the lightest guy to ever certify on the Red Nail. I was diagnosed with severe Crohns disease last year and went from 180 lb. to 150 lb. I wanted to prove to myself that I can achieve my goals through hard work and dedication regardless of my weight.

"I'd like to thank my referee Dr. Ken Leistner for taking time out of his busy schedule and letting me use his home for the [official attempt]. Also would like to thank my wife Lauren for supporting my bending and training goals. Thanks to Nathaniel Brous for being like my bending mentor and Cesare Ricchezza for introducing me to this wonderful world of grip and bending. Also need to thank God for giving me the strength to accomplish this goal," said Burgos.

And here's Dr. Ken Leistner's summary, as he he refereed on Burgos' official attempt and then called the action for IronMind.
"Brian Burgos, who appeared to be a more suitable rival for Barney Fife or Mr. Peepers than Pat Povailitis," said Dr. Ken, "made the request of IronMind to attempt a legal bend of the Red Nail. Living in the neighboring village, I agreed to serve as referee for Brian's attempt and the mild mannered 6', 150 pound father-to-be made short work of this goal.

"I had discussed at length the evolution of bending techniques with Dr. Strossen as Kathy and I were used to the rapid fire, minimal preparation other than the grab-and-go technique of good friend Povailitis, perhaps The Godfather Of Bending.

"However, standing to the side and hovering over Brian to be sure there was no bracing or contact of the nail or hands on the chin, chest, or other body parts, he made a strong, steady first attempt bend that more than met the IronMind standard.

"Likening himself to a golfer who preferred quiet in the gallery, the witnesses of our family members and some friends, all lifters/trainees, and Brian's lovely wife Lauren, were in fact quiet but supportive as he met his goal. 

"The only thing that would have added to the excitement would have been the actual birth of their child during the attempt, which relative to Lauren's due date, was a possibility!," said Dr. Ken.

Dr. Ken Leistner went way above and beyond the call of duty, bending over backwards to help IronMind jam in this attempt for Brian on short notice—plus he took the extra time to ensure that all the details were attended to, not the least of which was making Brian feel welcome—so many thanks, Dr. Ken, and congratulations to Brian, who set these bending goals and met them: your name has been added to the Red Nail Roster, the official certification list.

#

Want to talk strength? Join the IronMind Forum:

You can also follow IronMind on Twitter and on Facebook.