Brett Bracken Certifies on the IronMind Red Nail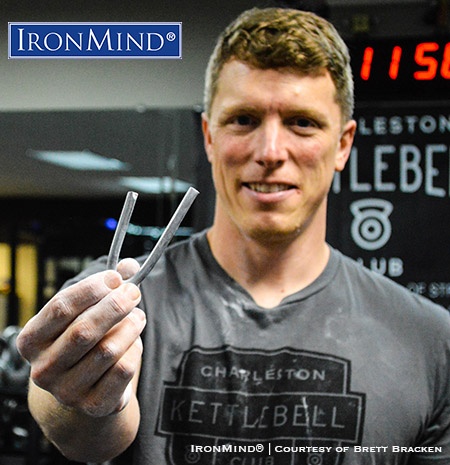 Owner of a kettlebell-based gym in Charleston, South Carolina, Brett Bracken has just been certified on the IronMind Red Nail, making it official that he's mastered bending this famous piece of steel.


Bracken told IronMind he was was introduced to this challenge "in a couple of ways. One was playing around on YouTube trying to learn more about bending and then reading through an edition of MILO a friend gave me on the same day. After that I ordered a Bag of-Nails and quickly dispatched all the way through the Blue Nails.



"I've been competing in many different sports ranging from NCAA pole vaulter, competitive beach volleyball, to highland games and many more. Over the years I've found that the world of strength and the strength sports have always drawn me in. Over the last couple years I've taken an interest in highland games, where I've competed along the east coast and become fairly competitive.



"I've started exploring mas wrestling, but yet to compete since there's very little on the coast. In the past 6 months I've gain quit a bit of interest in the Old Time Strongman feats of strength. I've been doing a good bit of training with Chris Rider during this time and have learned a few of these feats. My current course of action is to continue developing my abilities bending, lifting, and as athlete," said Bracken.



As for his training, Bracken said, "I currently bend nails and other objects three times a week. Monday's are typically my heaviest bending sessions.  Wednesdays along with Fridays are normally about grooving the pattern. Friday/Saturday sessions are normally more 60-penny nails and grade 2 bolts with one or two grade 8's mixed in. This is typically a weekly session of bending."

Congratulations, Brett—it's official: you have been certified and your name added to the Red Nail Roster.

IronMind would like to thank Jay Mossage for refereeing Brett's attempt to bend an IronMind Red Nail under official conditions.

                                  ###



You can also follow IronMind on Twitter and on Facebook.                        



Want to talk grip, strongman, weightlifting . . . everything strength? Visit the IronMind Forum.