Columbus, Ohio - Talk about a power breakfast: World's Strongest Man winners Svend Karlsen (Norway) and Magnus Samuelsson (Sweden) and Olympic weightlifting champions Shi Zhiyong (China) and Zhang Guozheng (China) had a great time meeting and talking about each other's sport this morning.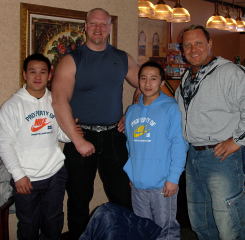 Left to right: Zhang Guozheng, Magnus Samuelsson, Shi Zhiyong and Svend Karlsen. IronMind® | Randall J. Strossen, Ph.D. photo.

Magnus Samuelsson and Svend Karlsen are in town to compete in the Arnold Strongman contest, and Shi Zhiyong and Zhang Guozheng are here to put on weightlifting exhibitions.

Svend Karlsen said he loves weightlifting and watches it every time it is on Eurosport, and Magnus Samuelsson expressed his amazement at the weights these two Olympic champions lift.

The admiration and respect were mutual, as Shi Zhiyong and Zhang Guozheng were awed by the size of the two top strongmen. Shi Zhiyong, who competes in the 62-kg category, pointed to Magnus Samuelsson's arm and then toward his own leg, laughing, and both of the weightlifting stars said how popular strongman contests are in China, and how much they enjoy watching them.