Branden Green Certifies on the IronMind Red Nail
Congratulations to 19-year old Branden Green, who has just certified on the IronMind Red Nail— a longstanding benchmark in the world of unbraced steel bends.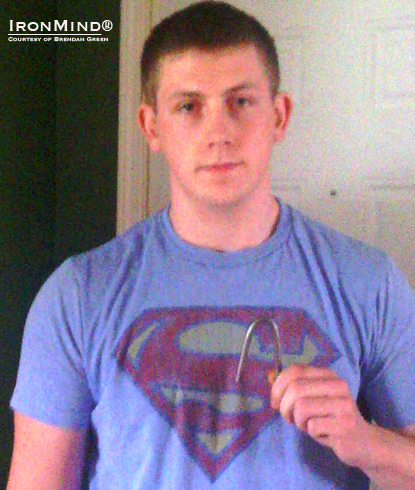 Just call him Superman: 6-ft. tall, 175-lb. Branden Green has been certified on the IronMind Red Nail. IronMind® | Photo courtesy of Branden Green.


Eventually hoping to bend even the IronMind Gold Nail, Branden Green said, "I enjoy working outside and with my horses along with strength training. I owe all credit for my achievements to Wes Inman. He was my teacher and my inspiration."

Many thanks to David Schantz for serving as the referee on Branden's official attempt on the IronMind Red Nail. David told IronMind, "That guy is strong!! Very impressive for his age and size! He bent the Red Nail in 15.3 seconds according to my stopwatch . . . He did a great job! Keep an eye on him . . . I bet you will be seeing more of him as he works towards the Gold Nail and Captains of Crush #3.

###

The IronMind Forum: discuss this article, talk strength, get help with your training.

You can also follow IronMind on Twitter.