Brad Gillingham: Top-Ranked IPF Super . . . 400-kg Deadlift at the Arnold?
Brad Gillingham is a two-time International Powerlifting Federation (IPF) men's world champion, so don't think he lifts in the masters' category because he couldn't lift anything heavy when he was a mere stripling - for his competitors, at least, the problem is that the older Brad Gillingham gets, the more he lifts.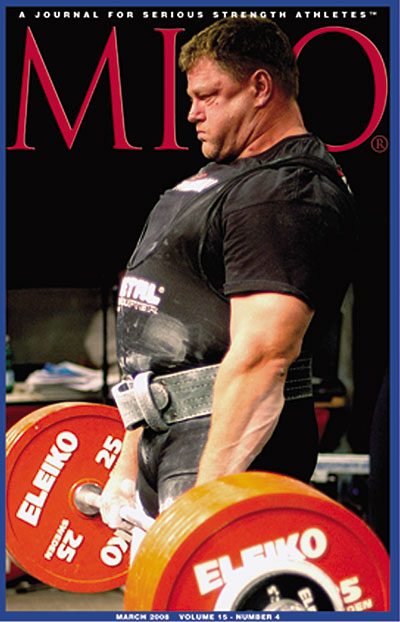 Officially, he's a masters' competitor, but don't think that means Brad Gillingham's lifts are going down. "The old man," as Brad calls himself lately, pulled this 390-kg deadlift at the 2007 IPF World Championships, which was good enough for the gold medal in the deadlift and the silver medal overall, not to mention making the cover of the March 2008 issue of MILO. IronMind® | Randall J. Strossen photo.

Pulling that 390-kg deadlift at last year's IPF Men's World Championships was a pretty big deal, especially considering that Brad Gillingham was 41 at the time. Rather than resting on his laurels, the IPF Hall of Famer was back for more this year as he totaled 1057.5 kg to win the IPF World Masters' Championships, breaking his own masters' world records in the deadlift and in the total. That total represented a 5-kg increase over what Brad did at the 2007 IPF Men's World Championships, but the even bigger news was that Brad's 395-kg deadlift is a lifetime PR.

So, we had to ask Brad whether he's thinking of hitting a 400-kg deadlift and there was no waffle in his answer: "That would be the goal," he told IronMind®. "I'm too ornery to quit." And if you want to be on hand to see it, IronMind® thinks it would be a good idea to be at the 2009 Arnold, where the USAPL will be hosting multiple powerlifting events and Brad Gillingham is scheduled to be among the competitors.

With this string of successes, Brad Gillingham already had plenty of incentive to keep his roll alive, but how's this for frosting the cake: Brad was in the number-one position on the just released 2008 IPF World Rankings, causing the typically-taciturn Gillingham to say, "The old man showed the young guys that he is still around!"