Brad Gillingham: Lucky 13
Brad Gillingham just became the 13th male lifter inducted into the IPF Powerlifting Hall of Fame.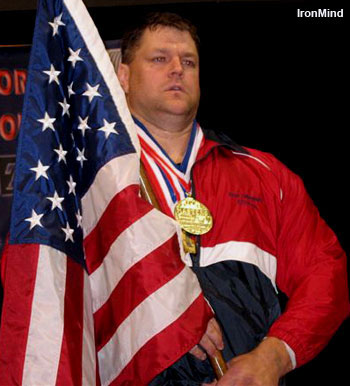 Brad Gillingham (USA) won the 2006 IPF Masters World Championships, and based on his recent lifts, despite his long and already illustrious career, the best may yet be on its way. IronMind® | Photo courtesy of Brad Gillingham.

Representing the USA and the great state of Minnesota, Brad Gillingham is a proud member of what IronMind® dubbed "the first family of strength": His dad, Gale, is a Green Bay Packer great, his older brother, Karl, is one of the world's top strongmen, and his little brother, Wade, is the reigning king of the GNC Grip Gauntlet. All three Gillingham brothers are sponsored by GNC Pro Performance.

Brad Gillingham hasn't just pulled more +800-pound deadlifts than you could easily count: The two-time IPF super heavyweight world champion has shown everyone the best side of powerlifting. With no suspect lifts or positive drug tests marring a career filled with milestone performances, Brad Gillingham is the kind of lifter who gives powerlifting the sort of credibility it craves.

Brad Gillingham's induction puts him in with some very special company in the powerlifting world: Ron Collins, Larry Pacifico, Hideaki Inaba, Precious McKenzie, Lamar Gant, Don Reinhoudt, Eddie Pengelly, Walter Thomas, Kenneth Mattson, Tony Stevens, Andrzej Stanaszek, and Jarmo Virtanen were previously inducted, making Brad Gillingham, the lucky 13th man to be honored in this very special way.

Among his many accomplishments, Brad Gillingham is the reigning IPF Masters World Champion; he is also a two-time IPF Open World Champion and an IWGA World Games silver medalist.

Congratulations, Brad!