Brad Gillingham: Looking for a Medal at the World Games
Two-time IPF superheavyweight world champion Brad Gillingham is about three weeks out from the World Games, and despite some nagging injuries that have hampered his training, Brad's planning to be in the hunt for a medal.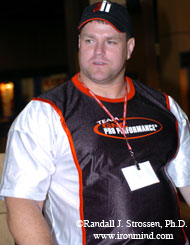 Brad got to relax as his brother Wade let guys test their hand strength at the Gillingham-GNC Grip Gauntlet held at the 2004 Show of Strength (Atlanta, Georgia). IronMind® | Photo by Randall J. Strossen, Ph.D.

The World Games are set for Duisburg, Germany next month, and with a 40-sport schedule and world class presentation, they are expected to draw about a half a million spectators.

Powerlifting is run according to IPF rules, but a formula is used in the +90 kg category in which Brad Gillingham competes, rather than just relying on the raw numbers, and formulas are generally considered to put heavier lifters at a disadvantage.

Brad Gillingham is best known for his gravity-defying double-overhand deadlifts and even if his current 16-week training cycle has not been going precisely according to plan, earlier this week he pulled a 775-pound deadlift about as easily as he ever has, so that gives you an idea of how high his base strength is at the moment.

Talking about the persistent inflammation and injuries that have been holding back his training, Brad said, "If this was any other meet, I would have pulled out, but this is the World Games and it's just one step down from the Olympics - you don't quit."