Brad Gillingham: Another Big Deadlift and More on Their Way
Telling IronMind, "I planned to give my brain a break this year," two-time IPF super heavyweight world champion Brad Gillingham might have forgotten to pass this message to the rest of his body because he's coming off a 390-kg (859-pound) masters world-record deadlift at the recent USAPL Masters National Championships.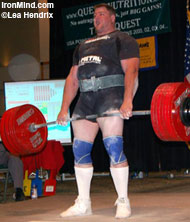 Two-time IPF world champion pulls masters world record 859 at the USAPL Masters National Championships. IronMind® | Lea Hendrix photo.

Gillingham not only erased the old record, which had stood at 370 kg, but his 390 also marks his biggest-ever official deadlift, and what better place to do it than in what was his 51st drug-tested competition?

And just because he did this masters meet, don't think that's the only place you'll see Brad Gillingham from now on. "I'm not done with open meets . . . I might go pull a big deadlift somewhere," he said.