Bondarenko: Big in IPF Supers
Soelden, Austria - Vladimir Bondarenko (Russia) started off with a gold medal in the squat and he never looked back.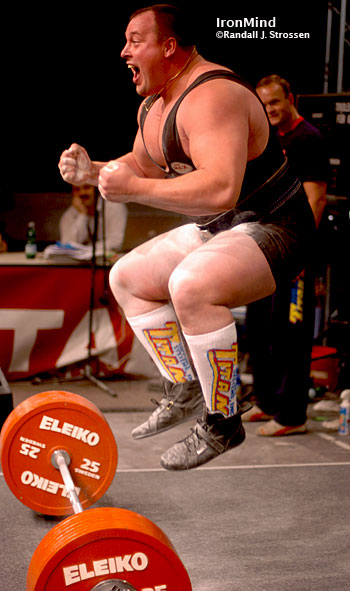 Why not jump? Vladimir Bondarenko celebrates his victory in the supers at the IPF World Championships today. IronMind® | Randall J. Strossen, Ph.D. photo.

The IPF World Championships is not the place to see comically-high squats pronounced good, and if anything, the head scratching here was in the form of "What was wrong with that?" when a seemingly good squat got red-lighted.

In this tough environment, Bondarenko opened with an easy-looking 400 kg, followed by two more lifts that also did not seem to tax him: 420 kg on his second attempt and 435 kg on his third attempt. Bondarenko went on to bench 280 kg and deadlift 377.5 kg for a 1092-kg total, but he wasn't the only one to light up the competition hall - Brad Gillingham (USA) needed 390 kg on his third attempt deadlift to get the gold medal in the deadlift and the silver in the total.

Gillingham pulled the weight, pocketed the medals and as a bonus, his 1052.5-kg total was a new Masters I world record. Ove Lehto (Finland) hit 1050 for the bronze medal in the total.