Bojan Pejic Certifies on the Captains of Crush No. 3 and No. 3.5 Grippers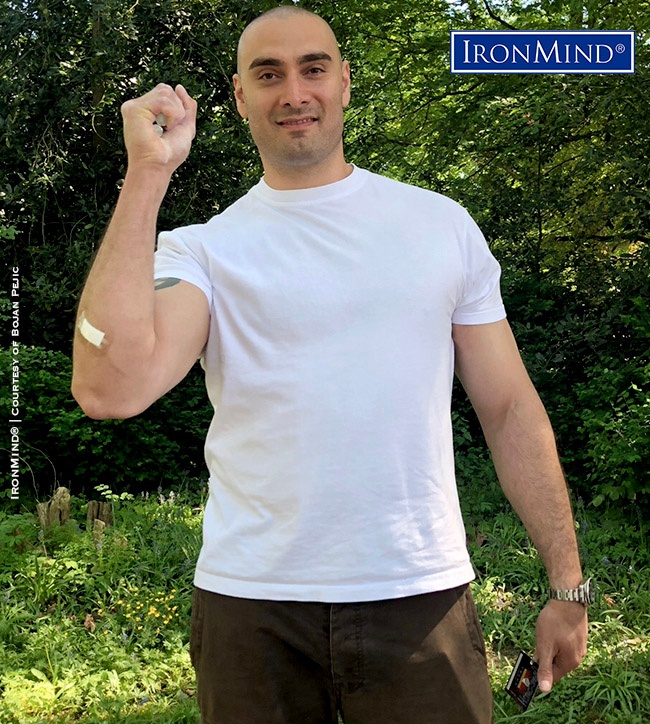 Bojan Pejic is not one of those guys who says he can do something he can't, so when he contacted IronMind about getting certified on the Captains of Crush (CoC) No. 3 gripper, he asked if him might also be able to try to do the same on the CoC No. 3.5 gripper.

Bojan could walk through the CoC No. 3 (even if he had the flu!) and was straight up about how he had not totally dominated the CoC No. 3.5 at that point, but he felt he could close it under official conditions if given the opportunity.

Turned out to be absolutely true because when Bojan met with his referee, Martin Arildsson (CoC No. 3, '04), he was able to close both according to the rules—a sweep that puts Bojan among the the world's most elite in terms of crushing grip strength.

Bojan Pejic told IronMind, "I'm from Lund, Sweden and I'm 33 years old. I weigh 134 kg and I'm 206 cm tall. I work at a railroad company, building and maintaining the railroads.

"My interests are strength training and fine wrist watches, the only jewelry a non-married man can have ;)

"The last year my goal has been to be as strong as possible and the end goal was to get certified with the No. 3.5 CoC gripper. Having accomplished this goal I am aiming to get the most aesthetic physique I've ever had. Looking at my picture you can see that I've had a few potato chips too many," Bojan said.

Many thanks for refereeing, Martin, and congratulations, Bojan—you knocked it out of the park and your name has been added to the Captains of Crush No. 3 gripper certification list as well as to the Captains of Crush No. 3.5 Certification list.

                                                ###



You can also follow IronMind on Twitter, Instagram and on Facebook.                        



Want to talk grip, strongman, weightlifting . . . everything strength? Visit the IronMind Forum.