Bodybuilding.com - Los Angeles FitExpo: Save $, Have Fun, Get Certified
IronMind® is happy to offer a coupon good for a $5.00 savings on a ticket to the Bodybuilding.com/Los Angeles FitExpo this weekend - so go have a good time and while you're there, have a cappuccino or a slice of pizza on us.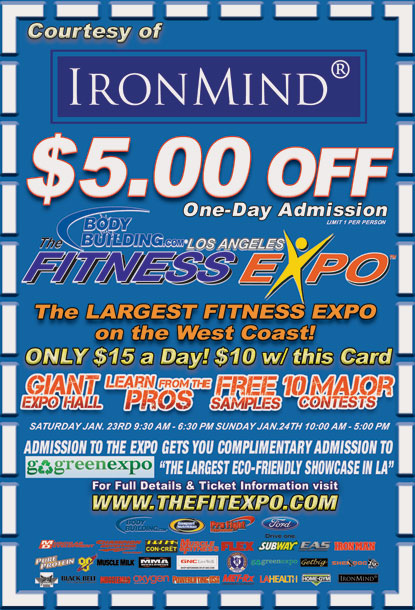 The Bodybuilding.com - Los Angeles FitExpo is this weekend, featuring strength, muscle and fitness in a convenient Southern California location. Save $5 on your ticket with this coupon from IronMind® - print it out and bring it with you. IronMind® | Image courtesy of the Los Angeles Fitness Expo.


Los Angeles, the center of the universe for bodybuilding, hosts the West Coast's largest fitness exposition this weekend with activities ranging from a pole fitness competition (!) to strongman to powerlifting to MMA to the Gracie U.S. Nationals and the Gracie World Championships. And if grip strength is your thing and you are ready to get certified on the No. 3, No. 3.5 or No. 4 Captains of Crush® Gripper, you can take your official attempt at the GNC booth under the watchful eye of Wade Gillingham, but please check in with IronMind® first.