Black Friday Sale at IronMind: Save 15%
Shop at IronMind.com starting midnight tonight EST—and throughout the Thanksgiving weekend—and save 15% on everything from Captains of Crush, Zenith, IMTUG and Left-Turn grippers to the ALight Training Center, Buffalo Bar, and SUPER SQUATS Hip Belt, to name a few strength-world favorites.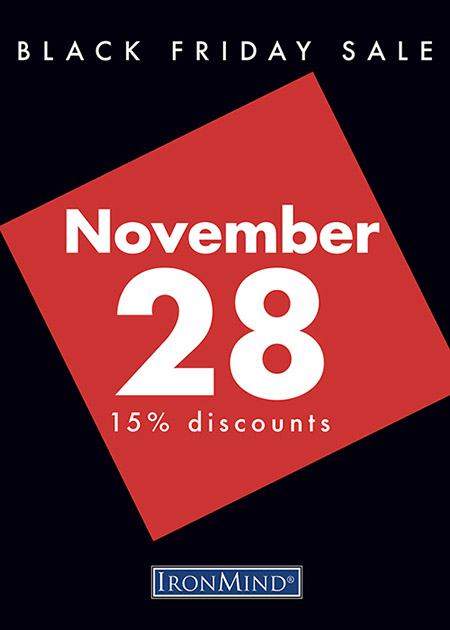 Save 15% starting at midnight tonight EST on the biggest names in the strength world: from Captains of Crush to Zenith grippers, Draft Horse Pulling Harnesses, Rolling Thunders, Apollon's Axles, ALight Training Centers, Just Protein and whole lot more. ©IronMind Enterprises, Inc.


IronMind is giving a 15% discount on any full-priced item* purchased on November 28 and throughout the Thanksgiving weekend**. Please enter FRIDAY in the keycode box at View Basket before you check out in the IronMind e-store.

Happy Thanksgiving!

*excludes packages, sets, kits and combos that already have discounted pricing, and York equipment
**sale runs from midnight November 28 to midnight December 1 EST (UTC/GMT -5)

###



Visit the IronMind Forum: talk strength, discuss this story. Strongman, grip, Highland Games, Olympic lifting, stones and more.

You can also follow IronMind on Twitter and on Facebook.