Black Friday Sale at IronMind: Less Than 6 Hours Left
Maybe you've been getting mauled at the mall all day, but now let's talk about saving money on Tools of the Trade for Serious Strength Athletes™: shop at IronMind.com until midnight tonight* and save 15% on everything from Captains of Crush, Zenith and IMTTUG grippers to Vulcan Racks, Just Protein and ALight Racks, too.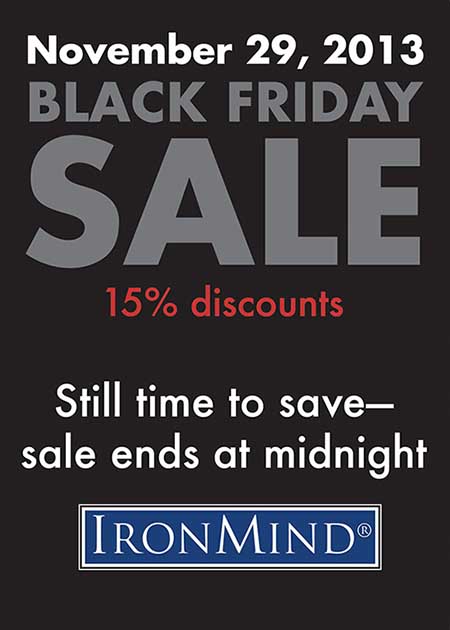 Black Friday is your chance to get top quality IronMind products for less money—save 15% on the biggest names in the strength world: from Captains of Crush to Zenith grippers, Draft Horse Pulling Harnesses, Rolling Thunders, Apollon's Axles, ALight Racks, Just Protein and whole lot more. ©IronMind Enterprises, Inc.


IronMind is giving a 15% discount on any full-priced item* purchased on November 29**. Please enter FRIDAY in the keycode box at View Basket before you check out in the IronMind e-store.

Simple as that, but the clock is ticking, so shop now to save some money.


*excludes packages, sets, kits and combos that already have discounted pricing, and Eleiko and York equipment, and MILO subscriptions
**sale runs from midnight November 28 to midnight November 29 EST



###

Want to talk strength? Join the IronMind Forum.

You can also follow IronMind on Twitter and on Facebook.