Bjornsson, Felix and Licis Qualify for World's Strongest Man 2016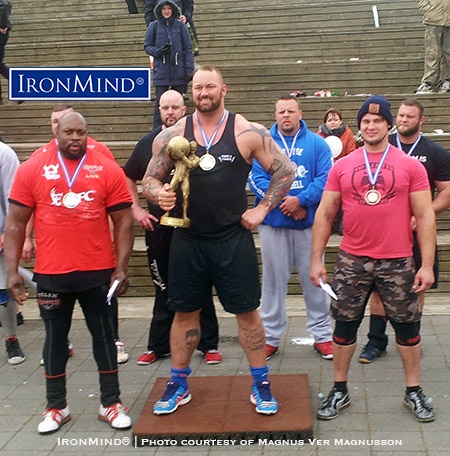 Based their top three performance at Giants Live Viking Challenge 2015 in  Grindavík, Iceland, Hafthor Julius Bjornsson, Mark Felix and Martins Licis have earned invitations to World's Strongest Man 2016.

Four-time World's Strongest Man winner Magnus Ver Magnusson, who organized the competition with Giants Live, told IronMind, "Hafþór won 3 events, Martins 2, Rafael 1, Ari 1. Top 3 got a spot at the Worlds strongest man 2016!!!"

Left to right: Mark Felix, Hafthor Bjornsson and Martins Licis have qualified for World's Strongest Man 2016. IronMind® | Photo courtesy of Magnus Ver Magnusson

Here are final places and points:

1 Hafþór Björnsson ICE, 75
2 Mark Felix UK, 67,5
3 Martins Licis LAT 54,5
4 Rafael Kobylarz POL 53,5
5 Derek DeVaughn USA 47,5
6-7 Georg Ögmundsson ICE 43,5
6-7 Dennis Kohlruss GER, 43,5
8 John Posen USA 43
9 Ari Gunnarsson ICE 41
10 Úlfur Orri Pétursson, 30
11 Rob Frampton UK, 24,5
12 Scott Cummine CAN 21,5


                                                          ###



You can also follow IronMind on Twitter and on Facebook.                       



Want to talk strength?  Join the IronMind Forum.