Bill Kazmaier on the Future of Strongman
With one day left in the finals of the 2014 Commerce World's Strongest Man contest, three-time winner Bill Kazmaier is already calling it the best ever, and one of the big reasons—a very large one—is because of the performance of Icelandic giant Hafthor Julius Bjornsson.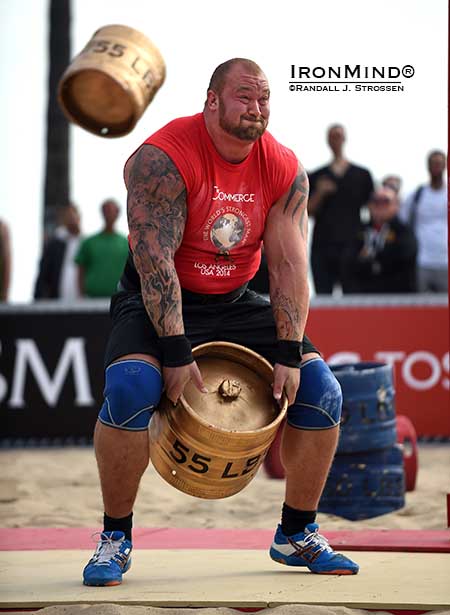 The fast firing human missile launcher Hafthor Julius Bjornsson triggered the next keg before the last one had landed in what was a world record performance at at the World's Strongest Man contest yesterday. IronMind® | Randall J. Strossen photo


"He's the future of strongman—he's unstoppable," said Kazmaier, as Hafthor Julius Bjornsson continues in the tradition of his countrymen Jon Pal Sigmarsson and Magnus Ver Magnusson," both of whom won this contest four times and established themselves as stars within the sport of strongman.

Yesterday, following a Loading Race and an Overhead Medley, the Keg Toss gave witness to what Kazmaier was talking about as the defending World's Strongest Man winner, Brian Shaw (USA), blistered the Keg Toss with a world record time that dropped jaws. But wait, doesn't competition bring out the best in us?

Thor, as his friend's call him, must have been thinking "Fast is good, but faster is better," and then Icelander ripped through the kegs, breaking Shaw's newborn record with a performance stirred the passions Kazmaier gave voice to.

The action continues today at the Commerce Casino and Hotel, where, along with Shaw and Bjornsson, watch for Zydrunas Savickas (Lithuania) and Mike Burke (USA) to press for the podium in the 2014 World's Strongest Man contest.

###



Visit the IronMind Forum: talk strength, discuss this story. Strongman, grip, Highland Games, Olympic lifting, stones and more.

You can also follow IronMind on Twitter and on Facebook.