Bill Kazmaier: Chasing Anderson, Doing Good and Collecting Awards
In a record performance, Bill Kazmaier said that he just spoke at 18 schools in 32 hours, explaining that you change things for the better "one school at a time and one kid at a time."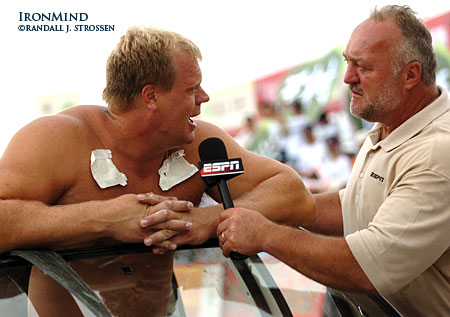 Phil Pfister has just won the Car Walk at the 2006 World's Strongest Man contest (in Sanya, China), and who better to interview him than three-time World's Strongest Man winner Bill Kazmaier. IronMind® | Randall J. Strossen, Ph.D. photo.
Referring to Paul Anderson - an Olympic gold medalist, world champion and world record holder in weightlifting who later turned his energy to public speaking as a way to inspire people and support his eponymous youth home - Bill Kazmaier spends his time as the premier strongman announcer/color commentator worldwide, and as a speaker at YMCAs and schools across the country.

Bill has certainly seen the seamier side of strongman and while he notes, "There have always been liars, cheats and thieves," he likes to focus on what he sees as the best in the strongman, and in terms of contests, he is quick to mention the World's Strongest Man contest and the strongman contest at the Arnold. Bill said he is also following developments at Fortissimus with great interest, and The Kaz's view on events might surprise some people.

"I never trained for the events," Bill Kazmaier told IronMind®, and that's why he thinks it is just fine if Fortissimus doesn't announce the events far ahead of time. Strongman has a well-established tradition of granting the fair-haired boy preferential access to information on the events as well as to the actual equipment, and Bill Kazmaier - who was not known as a beneficiary of this tradition - said that he just walked into contests and had at it.

Bill Kazmaier is in New York at the moment, working on the World's Strongest Man TV show, which will air on December 26, and he could hardly restrain himself when it came to Mariusz Pudzianowski. The Polish powerhouse not only won his fourth World's Strongest Man contest, but he also demonstrated the sort of drive and focus that have been the basis of his success.

"Mariusz took 16 seconds off his time in the Fingal's Fingers," Bill Kazmaier said. "He went through them like dominoes."

Bill Kazmaier's point was more than just that Mariusz Pusdzianowski blistered the course - he was illustrating how Mariusz Pudzianowski took what had been a poor event for himself, and then by, literally and figuratively, putting his shoulder into it, brought it up to the level of his other world-leading events.

But don't stop there, because Bill Kazmaier had more good things to say about Mariusz Pudzianowski: "Watch out if he ever decides to go after more static events," hinting that if Mariusz chose to specialize in event more like those used at the Arnold, some huge performances would follow.

And speaking of watching out, things are looking good for The Kaz - he was recently notified that he is receiving the Lifetime Achievement Award at the 27th Annual National Fitness Trade Show, in Las Vegas next year.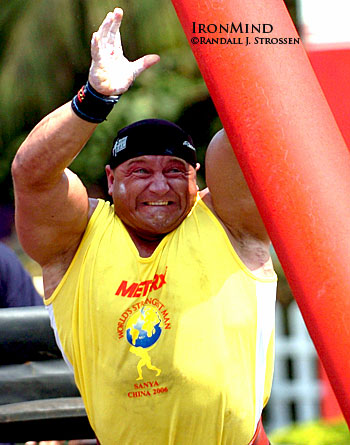 Mariusz Pudzianowski turned one of his weak events - Fingal's Fingers - into another strong one . . . just one more indication of the drive that is behind Mariusz Pudzianowski's success. IronMind® | Randall J. Strossen, Ph.D. photo.