Big Lead Evaporates, Bayramov Wins the 69s
Antalya, Turkey—Oleg Chen (Russia) had a 13-kg lead after the snatch, but it proved to be an unlucky number as he bombed out in the clean and jerk, opening the door for Afgan Bayramov (Azerbaijan) to pocket the gold medal in both the jerk and the total.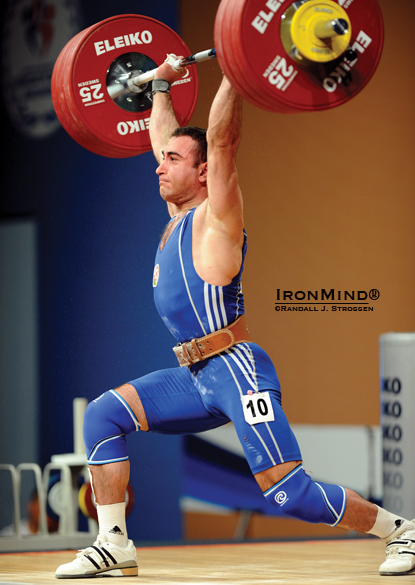 He was 15 kg down after the snatch, but hitting this 178-kg clean and jerk gave Afgan Bayramov the gold medal in the jerk and in the total in the 69-kg category at the 2012 European Weightlifting Championships. IronMind® | Randall J. Strossen photo.


After four misses in row at 145/146 kg the rest of the field was done and the stage was Chen's alone in the snatch: he blazed through 150, 155 and 158, looking to be in position to coast to a victory in the total as well.

Not to be overlooked in the snatch was Vencelas Dabaya (France), who has struggled in recent years, but when he marched through 138, 141 and 143 kg, the former world champion signaled that he had regained his focus.

After seeing success after success in the snatch, the tide turned in the clean and jerk and there were 14 misses at 175 kg or higher and Chen, unfortunately, could lay claim to three of them.

Dabya made 172 and 175 before missing 178–good for the bronze medal in the jerk and the silver in the total, where he edged out his teammate Bernadin Matam Kingue on body weight. Serghei Cechir (Moldava), lifting in the B session, seized the silver medal in the jerk with the same 175-kg success as Dabaya, but he was lighter.

###



Visit the IronMind Forum: talk strength, discuss this story. Strongman, grip, Highland Games, Olympic lifting, stones and more.

You can also follow IronMind on Twitter.