Big Guns Set for the New Hampshire Highland Games
"The New Hampshire Highland Games will be this weekend, September 19-21," Dr. Bill Crawford told IronMind®, and if that doesn't raise your pulse, keep reading.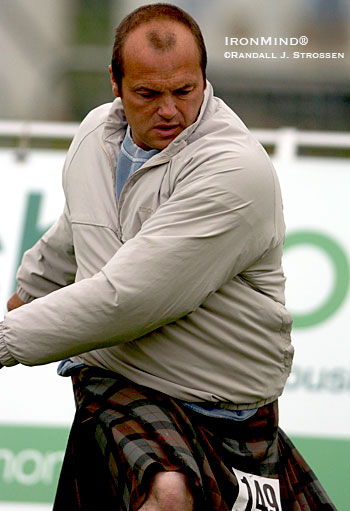 Alistair Gunn - at a little over one hundred kilos bodyweight - is hardly the biggest guy on the field, but watching him succeed, we are reminded of the line, "It's not the size of the dog in the fight - it's the size of the fight in the dog." IronMind® | Randall J. Strossen, Ph.D. photo.

"This will be the third year of The Highlander competition, a mix of pro-strongmen and pro-Highland Games athletes, who will compete in a medley of caber tossing, throwing, and stonelifting on Saturday and Sunday. Sam McMahon will be back to try to break his record with the famous Loon Stone Carry, after breaking a 9-year-old record last year with a carry of 101 feet. Other featured athletes in the competition will be Dave Barron, Mike Zolkiewicz, Gerard Beneroth, and Stefan Solvi Petursson, to name a few.

"The Games will also have a professional Masters Scottish Heavy Events competition. Ryan Vierra will compete as a Master for the first time against defending champion Don Stewart, as well as the Icelandic legend Petur Gudmundsson, The Giant Killer Alistair Gunn, Steve Pulcinella, Mike Baab, Myles Wetzel, and Scott Depanfilis. This will likely produce unprecedented results for Masters at a Highland Games."

The New Hampshire Highland Games will be held at the Loon Mountain Ski Resort in Lincoln, New Hampshire; please visit the official New Hampshire Highland Games website for full details.