Glenn "Who's Your Daddy" Ross said, "training and strength are going through the roof."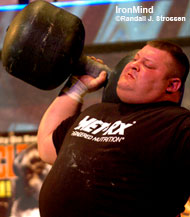 Glenn Ross, when healthy, is expected to spank the Circus Dumbbell - whatever it's loaded to. IronMind® | Randall J. Strosssen, Ph.D. photo.
"I'm like a new machine that's been let free to roam the city," Ross added.

Coming back from injuries, it's been a rebulding process for him this year, but it sounds as if Ross is ready to draw back the curtain. "I plan to compete in the UK Strongest Man event in three weeks," he said, so the strongman world will have a chance to see the mighty Glenn Ross hit the streets running . . . well, lifting.