Big Apple Grapple 34: Arm Wrestlers Ready to Rock NYC
New York Arm Wrestling Association's Gene Camp has announced the 34th Big Apple Grapple, an arm wrestling championships for amateurs and pros alike, and in the spotlight, a best of five supermatch featuring Bobby Buttafuoco vs. Frank Malis.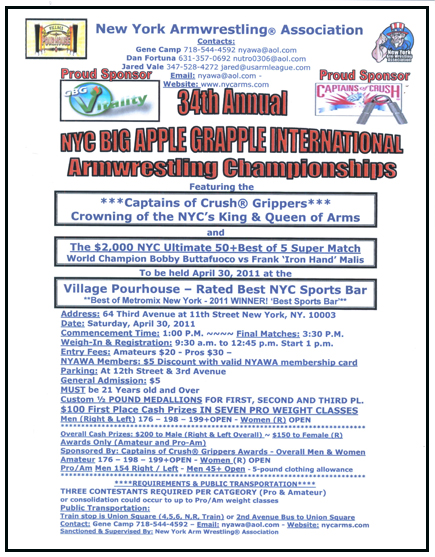 NYAWA presents the Big Apple Grapple 34 on April 30. IronMind® | Courtesy of NYAWA.


Also up for grabs are the the New York City King and Queen of Arms titles, along with cash prizes, and Captains of Crush Grippers gift certificates for the men's and women's overall champions. 

It's all set for April 30, and for complete details please visit the official website of the New York Arm Wrestling Association (NYAWA).

###


Want to talk strength or discuss this article? Join the IronMind Forum!

You can also follow IronMind on Twitter.