Betz, Brock and Vierra: Highland Games Update
Francis Brebner has filed this report, with an eye toward the upcoming Highland Games World Championships.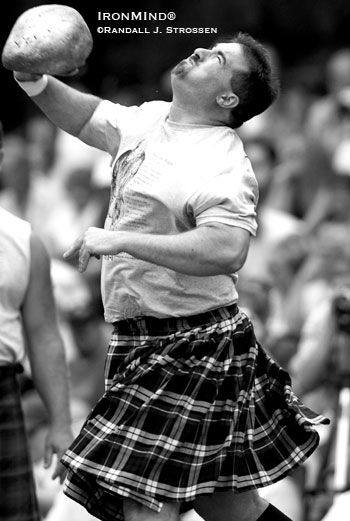 Sean Betz, who was profiled in the March 2008 (Volume 15 - Number 4) issue of MILO®, was red hot this past weekend, as was Larry Brock. Both men are among the favorites for the 2008 Highland Games World Championships. IronMind® | Randall J. Strossen photo, reprinted with permission.
"After an interesting weekend of Games across America, big numbers and PRs were being thrown by two of the top contenders for this year's World Highland Games Championship title, which will be held in Bridgeport, West Virginia," said Francis Brebner.

"Sean Betz dominated the Las Vegas Highland Games with three PRs: in the Braemar Stone, he went 42' 7"; in the 56-lb. weight for distance, 45' even; and the 22-lb. hammer, a massive 120' 10".

"At the Lochnorman Games that same weekend, Larry Brock went with the 56-lb. weight for distance, 46' 9"; the 22-lb. hammer, 117' 9"; and he had a PR in the 16-lb. hammer, with a throw of 148' 9".

"Only one athlete's name was missing from this weekend of competition-blitzing throws and that was Ryan Vierra, the five-time world champion, who, unfortunately, has suffered a torn calf muscle while in training for the Worlds. Ryan told me he is getting treatment daily and has been told by the doctor that he should be back to full fitness before the Worlds.

"With big numbers thrown like this so early in the season, we can only expect nothing less than a great World Championships," Brebner concluded.