Benedikt Wins, Magnus Ver Injured
Benedikt Magnusson won the Iceland's Strongest Viking contest in what proved to be war of attrition, with Georg Ogmundsson and Petur Bruno Sch. Thorsteinsson tied for second.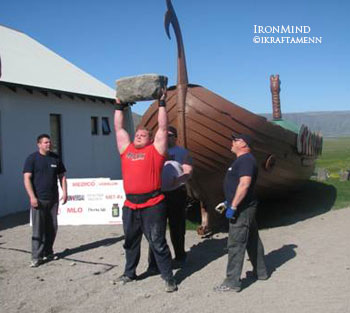 Benedikt Magnusson was the last man standing at Iceland's Strongest Viking contest, taking the top honors in what the organizers proudly called, "the hardest contest in Iceland." IronMind® | Photo courtesy of Islenskir Kraftamenn.
Four-time World's Strongest Man winner Magnus Ver Magnusson made good of his suggestion that he might lace up, and after three events, he was tied with Benedikt Magnusson. Magnus Ver went on to tear his biceps in the fourth event, although the initial report is that "the tendon is ok . . . only a muscle is torn." Not so fortunate, Jon Valgeir Williams "tore his biceps tendon off the bone and has already had surgery."

Undaunted by the small scale carnage, the contest organizers pointed to the casualties with a measure of pride, noting, "Again, Iceland's Strongest Viking proves to be the hardest contest in Iceland."

Remember, this is the land of Brenavin.