Benedikt Magnusson Deadlifts 400.5 kg!
Lifting in Reykjavik at the IPF Iceland Cup over the weekend, Benedikt Magnusson deadlifted 400.5 kg to become the first Icelander to hit the extraterrestrial 400 kg mark.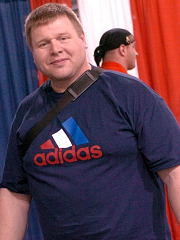 Former WSM competitor and top powerlifter Hjalti Arnason relaxes at the 2004 Arnold Expo, where he was on hand for the strongman competition. IronMind® | Randall J. Strossen, Ph.D. photo.
As reported by former WSM competitor and top powerlifter Hjalti Arnason, Benedikt Magnusson weighed in at 146.4 kg and along with his huge deadlift, he squatted 370 kg and benched 230 kg.

Iceland has a history of producing big deadlifters and following Benedikt Magnusson on Iceland's all-time list are: Auonn Jonsson at 382.5 kg, Magnus Ver Magnusson at 375.5 kg, Hjalti Arnason at 375 kg, Torfi Olafsson at 370.5 kg, and Jon Pal Sigmarsson at 370 kg.