Benedikt Magnusson . . . Just Married . . . Getting Ready to Win the Arnold
A week ago today, "Benedikt Magnusson (440-kg deadlifter and Arnold's Strongman competitor) and Gemma Taylor (twice Britain's Strongest Woman and European Cup Holder)" got married in Iceland.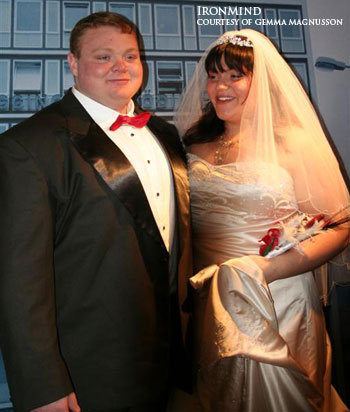 Benedikt Magnusson and Gemma Taylor got married in Iceland last Sunday. The mighty, happy couple lives in Denmark, for reasons Benedikt is quick to explain. IronMind® | Photo courtesy of Gemma Magnusson.

"The wedding was absolutely the most perfect day of our lives and we are so grateful to everyone who helped make so wonderful! We are also expecting our first baby in June 2008, which is why I will be taking some time off competing," Mrs. Magnusson said. Showing her sense of humor, Mrs. Magnusson, said, "I will be waddling along behind him [at the Arnold]. Growing a Magnusson baby is my biggest feat of strength yet!"

And speaking of the Arnold, Benedikt told IronMind today, "I want to be the best at everything," and this isn't just about strength sports. "I want to be the best father in the world and the best husband in the world." Lest you think Benedikt has gone soft domestically, however, think again.

The happy couple lives in Denmark, where Benedikt is studying construction engineering. Benedikt gave a simple explanation for why he chose to live Denmark, rather than Iceland, at the moment.

"Meat," he said.

Going on to explain that the cost of living is so much higher in Iceland, which makes it is difficult for him to eat as much meat as he would like to gain the weight he feels he needs to reach his goal of winning the 2008 Arnold Strongman contest.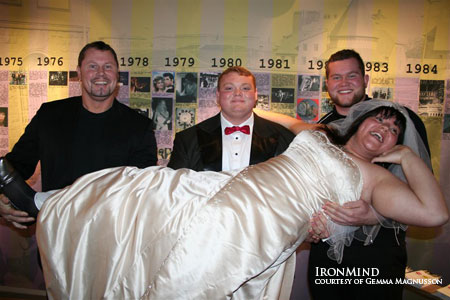 Four-time World's Strongest Man winner Magnus Ver Magnusson (left), along with his two "secret weapons," Benedikt Magnusson (center) and Stefàn Sölvi Pétursson (right), loft the glowing bride, Gemma Magnusson. IronMind® | Photo courtesy of Gemma Magnusson.