Bahador Moulaei: Surgery Needed, Out of Worlds
With the final results in the super heavyweight class at the upcoming World Weightlifting Championships likely to not just come down to the last clean and jerk, but also very possibly the first +260 kg clean and jerk in over a decade, weightlifting fans worldwide will be crushed to hear that Bahador Moulaei (Iran) will not be competing.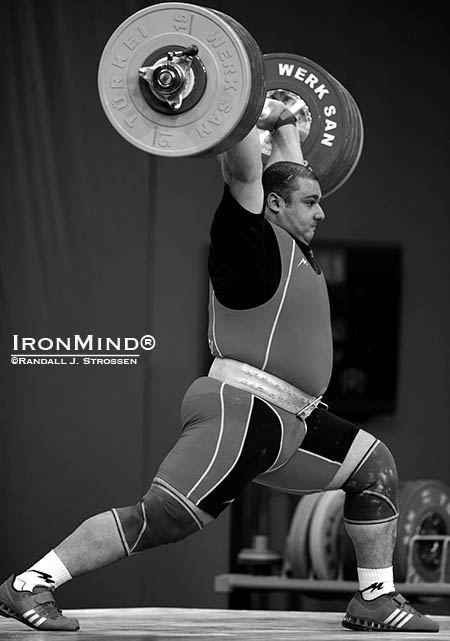 This is how close Bahador Moulaei (Iran) came to making a 261-kg clean and jerk at the 2013 World Weightlifting Championships. IronMind® | Randall J. Strossen photo


Moulaei very nearly pulled off the breakout lift at the 2013 World Weightlifting Championships as he had the winning 261-kg jerk overhead, only to lose control and drop the bar as he was recovering from the split.

Coming into the recent Asian Games Moulaei sustained a serious injury and Asian Weightlifting Federation General Secretary Dr. Ali Moradi explained the situation in an exclusive IronMind interview:

"I would like to inform you that, unfortunately, Bahador Moulaei was injured due to incorrect training methods instructed by some Iranian weightlifting national coaches and technical members and according to the team doctors, his tendon is torn and he needs to undergo an operation.

"He not only will lose the 2014 World Weightlifting Championships in Almaty, Kazakhstan in November, but also he won't be able to participate in the upcoming events for the next months. He should be treated for [the injury in] the next months.

"He shouldn't have been sent to Incheon due to his previous injury. Therefore, I am so sorry to see that such naïve and inexperienced persons caused his injury to get worse," Dr. Moradi told IronMind today.

The last time a +260 kg clean and jerk was made in the World Weightlifting Championships was in 2002, when the formidable Hossein Rezazadeh (Iran) made 263 kg. Since then, there have only been a handful of attempts at 260 kg or higher, none successful.


###

Want to talk strength? Join the IronMind Forum.

You can also follow IronMind on Twitter and on Facebook.