Bad Girl Open: Weightlifting for Girls (and Women) Only
FIT Barbell Club in Los Altos, California is kicking off 2009 with the Bad Girl Open, aimed at introducing more girls and women to the sport of weightlifting, Rob Earwicker told IronMind®.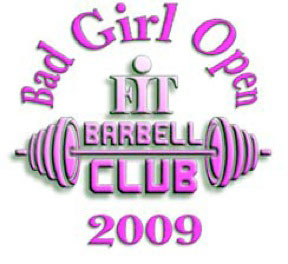 Set for January 18, the Bad Girl Open is a fun way to give the sport of weightlifting a try. IronMind® | Artwork courtesy of Rob Earwicker.


Focusing on girls and women of just about all ages, the Bad Girl Open is not sanctioned by USA Weightlifting, Earwicker explained, with the idea of appealing to a broad range of female lifters, rather than just those who specialize in the Olympic sport of weightlifting. So, all you CrossFitters, throwers, jumpers and ball players, come out and have some fun seeing how much you can snatch, and clean and jerk.

"We are hoping this meet helps promote our great sport," said Earwicker, and if you can't make to the competition in person, watch it live at Bad Girl Open - live. For full details on this weightlifting contest, including entry forms, please visit www.badgirlopen.com.