Australia's Strongest Man
"Australia's Strongest Man will take place in Lismore, New South Wales on November 24 - 25 with the biggest line-up of athletes to date in this event," Bill Lyndon told IronMind.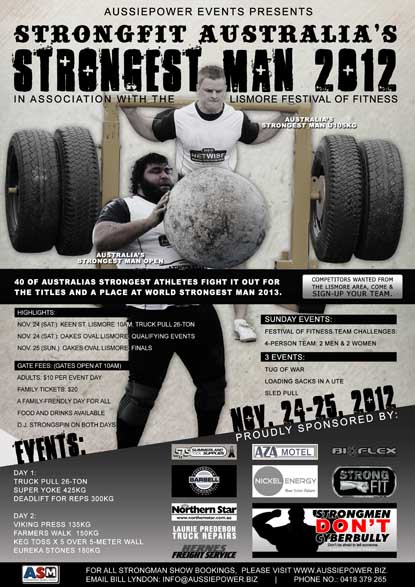 Australia's Strongest Man is coming soon and it's a gateway to Giants Live, the official qualifying tour for the World's Strongest Man contest. IronMind® | Artwork courtesy of Bill Lyndon.


"Aussiepower events has searched far and wide to find the strongest men from Down Under with qualification via the StrongFit strongman system where athletes must obtain an Elite One grade level to enter this .

Lyndon told IronMind that the top three heavyweights will "advance to the Giants Live competition in March at the Melbourne FitX which will allow them to fight it out for a place at World's Strongest Man."

FitX, displaying their great speed and athletic prowess based again on the StrongFit Event format. They will be sure to light up the crowds and definitely add a great dynamic of entertainment for the FitX Event."

The ASM title is "up for grabs" in both classes, Lyndon said. "I'm so excited I can hardly sleep at night and I cant begin to imagine how excited all the athletes are. Its like I have got 26 runners in the Grand National."

Day one will be a qualifier, with the top eight advancing to the finals, and the <105 kg class will use weights about 12% lighter than in the open class (except for the stones).

Please visit the StrongFit website for full details.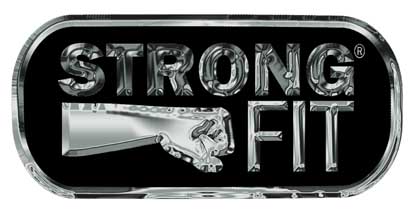 StrongFit is the brainchild of strongman entrepreneur Bill Lyndon, the Dynamo from Down Under. IronMind® | Artwork courtesy of Bill Lyndon.

### 



The IronMind Forum: discuss this article, talk strength, get help with your training. 


You can also follow IronMind on Twitter.