Australian Strongman: Clash of the Titans - Series 2
Aussiepower's Bill Lyndon has announced Clash of the Titans–Series 2, which "Will be staged in Melbourne next week from the 10th March to 13th March . . . [as] "the feature event of the Melbourne FitX."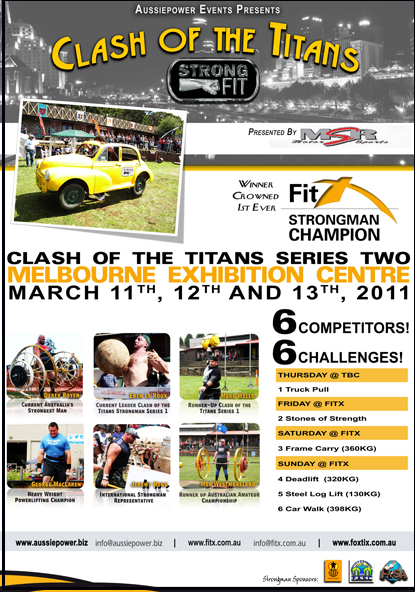 Aussiepower is bringing strongman to the Melbourne FitX next week, Bill Lyndon told IronMind today. IronMind® | Courtesy of Aussiepower.


Here is the official start list:

Eben Le Roux (current series leader)
Marc Wells
Derek Boyer
George Mac Laren
Moe Westmoreland
Jeremy Hogg

Lyndon told IronMind, "This event is sanctioned via the Federation of Australian Strength Competitors (FASC) with all weights and
measures certified and recorded on its database."

And in good news for all his fans, "Derek Boyer has come out of retirement to take part in this event as this event is considered the biggest profile event for Strongman in Australia in recent history and he did not want to miss the action," Lyndon said.

###


Want to comment on this article or just want to talk strength? Join the IronMind Forum!

You can also follow IronMind on Twitter.