Bill Lyndon has announced his Australian strongman grand prix, "The Australian Hercules," which is set for May 25.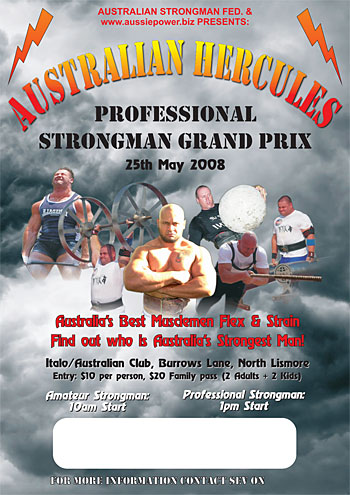 Bill Lyndon's Australian Hercules is a strongman grand prix that Lyndon said will send top competitors to international events. IronMind® | Courtesy of Bill Lyndon.

Lyndon said that he has "20 athletes participating and all are big strongmen and ready for action. The top places will be placed in international events." The athletes are Derek Boyer, Warrick Brant, Ben Maddern, Ebin Le Reux, Robbie Fernandez, Luke Reynolds, Parmesh Silwal, Marc Wells and Aaron Monks

"We will also run an intermediate class of another 10 athletes," Lyndon said.

Here are the events:

Arm-over-Arm Pull: 9000-kg truck
Super Yoke: 385 kg
Log Lift: 130 kg for reps
Farmer's Walk: 150 kg/50 meters
Deadlift: maximum lift, three attempts, bar at 450 mm
Stones: up to 180 kg

Bill Lyndon also made special mention of Aaron Neighbour, a discus thrower who "broke the Australian record with the Valhalla Stone, which is 165 kg, with a carry of 119.2 meters. He stands at 198 cm and weighs 135 kg, and is a great prospect for the future."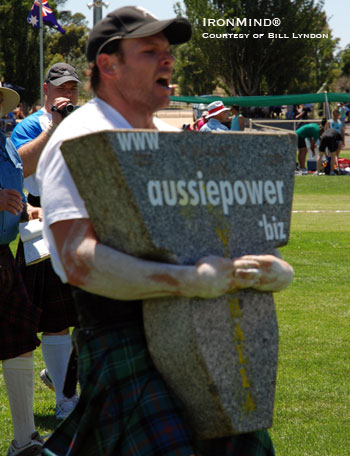 Aaron Neighbour, a discus thrower who broke the Austrialian record in the Valhalla Stone, is said by Bill Lyndon to have a great future in strongman. IronMind® | Courtesy of Bill Lyndon.