Athens: Olympic Games Open with Spectacular Ceremony
Athens – In an inspiring opening ceremony of stunning proportions, the 2004 Olympic Games opened last night, in a triumph that while many hoped for, not all forecast. With mind-numbing drama, the Olympics opened before a packed stadium where tickets were going for over US$1,000!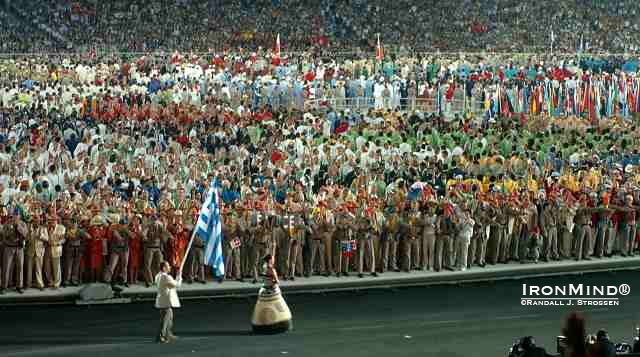 Greek weightlifting superstar Pyrros Dimas leads the parade of nations. IronMind® | Randall J. Strossen, Ph.D. photo.


Yes, prices are Olympian in scale, but they are no match for the pageantry and enthusiasm of the night as thousands of athletes representing the 202 countries participating in the Olympics marched into the stadium.
Flanked by the chief organizer of the Athens Olympics, Gianna Angelopoulos-Daskalaki, IOC president Jacque Rogge, said, "Sport unites by overriding national, political, religious and language barriers," giving substance to his message as he seamlessly moved from speaking in Greek to French to English. Rogge also called for an end to doping and for fair play.
Weightlifting fans were heartened to see Pyrros Dimas, who is a huge name in Greece, lead the parade of nations, and Akakios Kakiasvili was one of the torch bearers on the final lap around the stadium before the Olympic flame was lit. Weightlifting competition starts tonight with the women's 48-kg category.