Athens Coverage in the January IRONMAN
Olympic-style weightlifting fans who want more newsstand exposure for the sport should run out and buy a copy of the January issue of IRONMAN magazine because it has terrific coverage highlighting the lifting in Athens.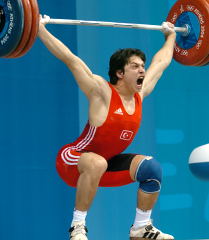 Taner Sagir (Turkey) produced an electrifying performance at the Athens Olympics, which included this 172.5-kg snatch. Not too shabby for a 77-kg teenager, huh? IronMind® | Randall J. Strossen, Ph.D. photo.
IRONMAN publisher John Balik has long been a strong supporter of weightlifting, and what else could you expect from a guy who, as a teenager, walked into a Chicago YMCA and saw Clyde Emerich clean and jerk a world record. Talk about an introduction to the sport.

For more information on IRONMAN magazine, please check their website and if you're a weightlifting fan, buy this issue and then let IRONMAN know that you appreciate their support.