Asian Weightlifting Federation Congress
Gunsan, Korea - Among other announcements at the Asian Weightlifting Federation Congress today, a new information technology system was described for timekeeping, the referees and the jury, along with a new scoreboard.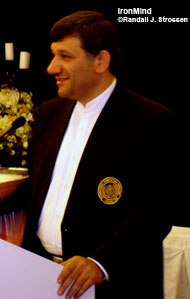 Asian Weightlifting Federation General Secretary Ali Moradi announced that a new information technology system for the referees and the jury will be unveiled when competition begins at the Asian Junior Weightlifting Championships tomorrow in Gunsan, Korea. IronMind® | Randall J. Strossen, Ph.D. photo.
The Congress had a recurrent theme of unity among the Asian nations making up what has become the powerhouse continental federation in weightlifting, and with the announcement of this new system - which will be unveiled tomorrow - the advances from the Asian continent are entering a new sphere of major influence, following on the coattails of its leading performances on the platform and its increasing prominence in the upper administrative functions of the sport.

AWF President Monico Puentevella opened and closed the Congress with a prayer for world peace, and he stressed the need to maintain efforts to establish weightlifting as a clean sport.