Asian Weightlifting Championships: Hoang Wins the 56s
Dubai - Looking like a future star, Hoang Anh Tuan (Vietnam) won the men's 56-kg category today at the Asian Weightlifting Championships.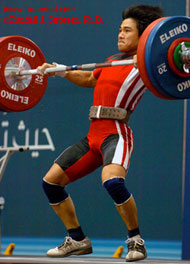 Flying under his opening snatch, 122 kg, was just the beginning of a great performance for Hoang Anh Tuan (Vietnam), and it gave the young lifter the 56-kg title at the Asian Weightlifting Championships today. IronMind® | Randall J. Strossen, Ph.D. photo.
Hoang nailed 122 kg in the snatch, and then had a beautiful success with 125 before missing 126 - he couldn't quite fix it overhead, much to his disappointment.

This guy is a must-see lifter, but don't blink when he comes up on the platform because he goes straight to the bar and - bam! - he's attacked it without a pause.

After the snatches, things were looking good for Hoang, but when he missed his opening jerk, 150 kg, it looked like things might turn south in a hurry. He came back, made a good lift with the same weight, and then took 152 kg on his third, for a great lift with a very deep jerk. Wang Shin-Yuan (Taipei) was second with 125/151 and his teammate Yang Chin Yi was third in the total via 118/153.